Galerie pour chantier?
Lien-s partie
Constructions
:
GORDOLON (GN)
(Ouvrage d'artillerie)
Fil ouvert par Zvon
(
87
)
- Posté le 18/08/2021
Réponse de jolasjm
(
5811
)
- Posté le 19/08/2021
Dernière modification par jolasjm le 19/08/2021.
Hello Michal
This galery is quite below the lower level of Gordolon. For me this has nothing to do with the ouvrage. In fact I did check on a situation drawings of 1933 : 8 m above the river level, but 20 m below the entrance level of the ouvrage, and parallel to to the river there was a watering canal for agricultural irrigation. This canal is (was !) having a tunnel section at this point. this seems to be it.
Best regards
Jean-Michel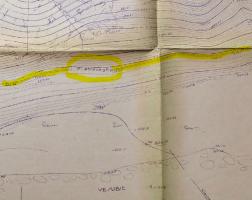 Réponse de Zvon
(
87
)
- Posté le 19/08/2021

Hello Jean-Michel

Thanks for the information

Best regards
Michal




Vous ne pouvez pas participer à ce fil de discussion, seuls les utilisateurs inscrits peuvent y répondre ou y contribuer.
S'inscrire sur le site est gratuit, rapide et sans engagement.